How to use clumping bamboo to grow a bamboo hedge
This page explains how to growing a hedge (a neat screen) using clumping bamboo.It explains how and when and where to cut the bamboo to keep it at whatever height you choose
If you have not already done so, it's probably best to read the 'How to Grow a Bamboo Screen' page first because this page is for what to do once you have a screen but want it to be 4m and not 6m. It is super easy to do.
Please feel free to download our care guidelines. NOT instructions. There is nothing ' special' about clumping bamboo, it just grows differently to most other plants and you should feel comfortable experimenting, but let them get established first, these guidelines will help you do that.
Examples of a Bamboo Screen
This is a hedge (and a screen)
Confused? Don't be. Feel free to call them what you want, the point being made here is that clumping bamboo is very easy to cut down and keep at lower height and to make the distinction we refer to this as hedging. There is nothing more to it that that.
The reason we have made a separate page is that there are a couple of very simple things you need to get right to cut the bamboo back and get the best out of it. You just need to know when and how to cut it, and the photos below should make that obvious
How to Grow a Hedge With Clumping Bamboo
per plant per year 10 minutes
Step 1, allow the bamboo to reach the height you need fully leafed out
This is explained in the How to Grow a Bamboo Screen Pagee
Step 2 When mature (year 2 onwards) clumping bamboo puts up shoots all together and all at the same time of year (late summer).
The shoots take about 2 months to reach full height.
In the Case of Slender Weavers, when mature, this means they will be putting up 8m shoots.
So how and when do you trim the plants to keep them at a lower height for the rest of the year? To look like this:

Step 3 Cutting the bamboo to make it form a hedge
There are several clumps along the perimeter of my fence, all but one I had already cut to about 3.5m when these photos were taken
The screen doesn't need to be more then 3.5m and letting it grow to 8m blocks sunlight from my neighbour.
He was already concerned the bamboo would invade his yard but it was easy to explain that clumping bamboo cannot do this.
I have always kept it at that height because I'm a nice person.
It also means that there are less leaves per plant which means less water demand, which means they are even more tolerant of drought.
The other reason is that they are planted to screen the house at the back and you can see from the photos further down so hey are cut just above the window level, so privacy for both of us.
I have NEVER watered these clumps of Slender Weavers
Step 4 – Making sure you know when to cut
All the shoots come up at once in late summer.
Once they stop growing, they begin to harden up and put out branches and leaves at the top.
This is when they are stiff but flexible enough to easily bend down and also the best time to cut them because they are in the branching out mode.
Removing the top half of the culms (canes) means the bamboo responds by putting out a lot more branches and leaves lower down, so you get a much denser bushier screen too.
Here are some photos to give you an idea of when to cut them (once you've seen them grow for a few months it becomes obvious.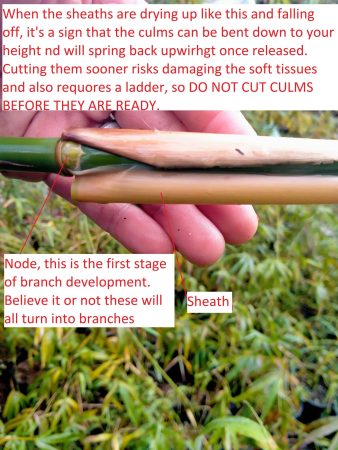 Step 5 Is there an easier way to look at bamboo and know when it's OK to cut it to a lower height?
Yes, most definitely, it's just when you've bent them down first a few times to look at them up close it's much easier to recognise from just looking at them.
This is by far the easiest way to tell.
All the shoots take about 2 months to reach full height.
Then they harden up and start to put out branches and leaves.
Once there are some branches and leaves forming from the TOP of the culm, then is the time to bend the culm down and cut.
If the bottom of the culms look like this, then they are definitely ready to cut
If you see the culm sheaths falling off then it's a sign they are ready to cut
Step 6 How do the bamboo plants respond to form a hedge?
These culms are definitely ready to be cut
After Cutting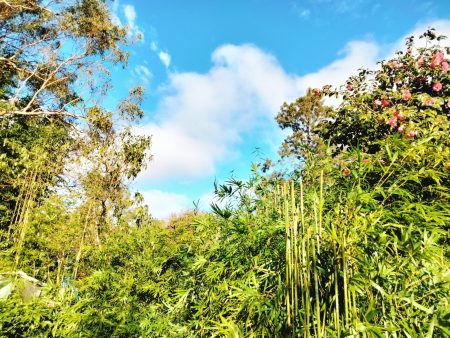 Once cut the culms NEVER grow taller, all that happens is the nodes quickly form into branches.
Some times this may not fully happen until the following spring.
If the shoots come up early enough then there can often be enough time left in the season form them to fully leaf out
Supply:
Tools:
Materials: Bamboo Bamboo Plants Fertiliser Mulch Secateurs or Lopers Patience and time
ddd
With some careful attention to trimming and pruning almost any look is possible
Have a look at the photos below and notice that in some cases. the plants are taller than they need to be.
This causes them to weep over slightly.
They also have more leaves.
More leaves exposed to a wider area of sun means they are likely to draw up more water than keeping them cut back.
Certainly, cut back, well maintained bamboos do seem to and grow more vigorously and are more resilient to harsher conditions
There is NOTHING wrong with doing this, it's up to you what kind or look you want.
Reasons to Cut your Bamboo Back